Splash Canyon VBS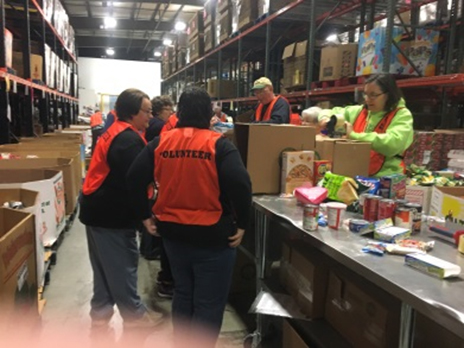 Youth Fellowship: Small enough for individual attention, partnering with other area congregations to experience Church with a capital 'C'. Being part of a Christian community where we build relationships with God and one another.
Adult Fellowship: PEP - People Enjoying People: A mid-week, mid-day group who like to be around other people and love to eat! Sometimes speakers come to share topics as mixed as Bats and Navy Submarine life. Other times there are trips to local attractions, or just plain board games!
Local Summer Mission "Trip": Details coming soon for an opportunity this Summer of 2018... providing a local Camp Noah Day Camp for children displaced from Puerto Rico by Hurricane Maria!
Servant Fellowship: Sewing for Disaster relief, Quilters: For those who are gifted in hand-crafts and for those who want to learn to hold a scissors, or use a sewing machine. Make knotted blankets for disaster relief, veterans, and babies born into difficult circumstances. Also knitters and crochet fans make prayer shawls. One group meets every Monday to hand-sew quilts in the old-fashioned way. Come share in the conversation and hone a new skill.
Service Fellowship: Fall Fest: Old fashioned Fall Harvest Festival in October with crafts, games, food and special music. You don't want to miss the raffels especially the hand-made quilt! Proceeds support the Pre-school, Free Medical Clinic and Youth ministries.
Bible Study & Worship: Lent 2018: Wed. Mid-day worship & meal with Conrad Weiser Ministerium; Wed. at St. Daniel's 6pm meal and 7pm Holden's Evening Prayer Service
Where would you like to be involved?
Monday, June 18, 2018 from 5:30 PM to 8:00 PM

Calling all children ages 3 through grade 6!!!! You are invited to Splash Canyon which will begin Monday June 18 from 5:30 pm to 8 pm and will conclude Friday June 22. where we will discover that, on life's wild ride Jesus is by our side. Supper will be served promptly at 5:30pm for children and parents in order that we can start Splash Canyon at 6pm SHARP!!!! There is no cost for supper or to attend VBS! Friday evening we will meet at the Conrad Weiser Community Pool in Robesonia at 5:30 pm for a picnic supper and games. Please call the church at 610 693 5145 to register or with any questions. We look forward to seeing you on June 18!!!!