Special
Save-the-dates:
9am Sun., Dec. 23

rd

, 2017 Basic'ly Brass

Lead morning worship with Organist Marlin Kerchner at St. Daniel's

https://www.facebook.com/pg/Basicly-Brass-266649123667/about/

3:45pm Sun., Dec. 23rd, 2018 Reading POPs Orchestra, and soloists

lead a Christmas Vespers Service at Conrad Weiser Auditorium

Past Special music...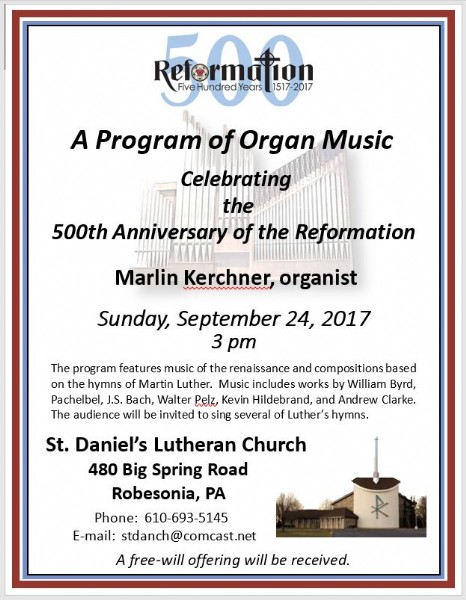 Organ Program of Reformation Music
3pm on Sunday Sept., 24th by Organist Marlin Kerchner
The program featured music of the renaissance and compositions based on the hymns of Martin Luther. Music includes works by William Byrd, Pachelbel, J.S. Bach, Walter Pelz, Kevin Hildebrand, and Andrew Clarke.