Bible Studies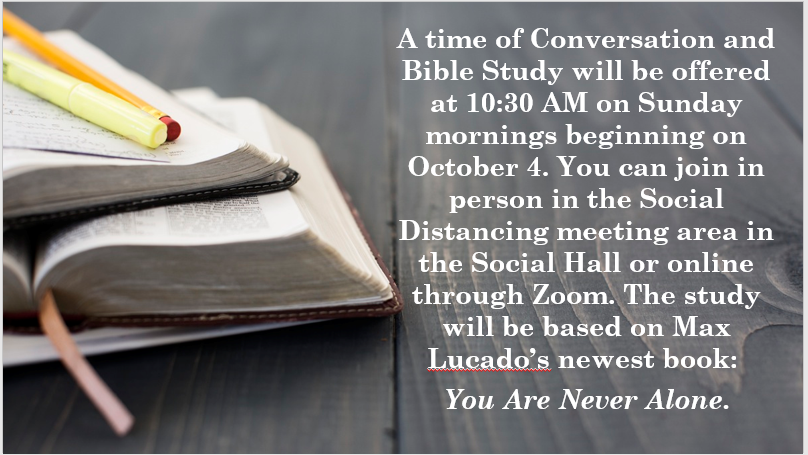 Dear Friends,
I will be offering a Bible Study beginning at 10:30 AM on a Sunday morning for two Sundays each month in October, November, and December. You can attend either in person in the Social Distancing room at the church or online with Zoom. The Zoom invitation for a session will be posted in the St Dan weekly prior to the session.
The study will focus on the signs recorded in the Gospel of John and will be based on Max Lucado's new book. "You are Never Alone: Trust in the Miracle of God's Presence and Power." Mr. Lucado writes, "John's intention in relating these miracles is not to serve as entries into a history book but as samples from God's playbook. He recorded them not to impress you but to urge you to believe in the tender presence and mighty power of Christ. This montage of miracles proclaims: God's got this! Think it's all up to you? Hogwash. God will carry you. You are stronger than you think because God is nearer than you know."
The titles for the sessions are:
John 2: 1-11 – God Is with you in the ordinary (October 4)
John 5: 2-9 – God is with you when you are stuck (October 11 or 25)

John 6: 16-21 – God is with you in the storm (November 1)

John 9: 17-25 – God is with you in the dark (November 8 or 22)

John 11: 17-27 – God is with you in the valley (December 6)

John 21:15-19 – God is with you when you need grace (December 13)
You need not purchase a book in order to participate, however, his succulent writing will supplement the study well. I will be placing an order for books on September 23 (cost $15.00). If you would like me to order one for you, please contact me at pastorbobkramer@gmail.com .